Comparative GO Graph (mouse, human, rat)
Graphs display curated GO classifications for mouse, human, rat and zebrafish orthologs annotated from the biomedical literature.
This class contains

Human genes B3GALNT1
Mouse genes B3galnt1
Rat genes B3galnt1
Zfish genes

Annotations are indicated with nodes colored by organism:

Human

,

Mouse

,

Rat

,

Zfish

Relations between GO terms are indicated by colored edges "is_a"; "part_of"; "regulates"; "positively_regulates"; "negatively_regulates"
Only experimental annotations are displayed: EXP, IDA, IEP, IGI, IMP, IPI, HTP, HDA, HMP, HGI, HEP. Evidence codes are listed at the bottom of the page.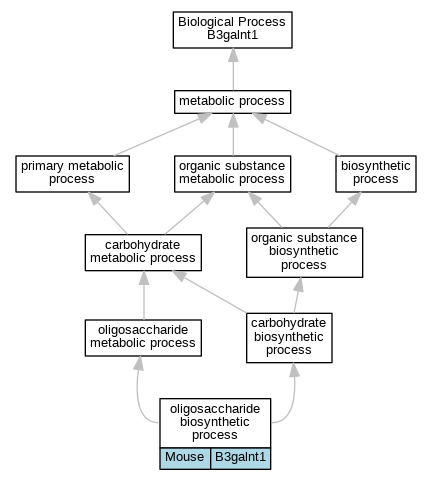 Full set of experimental annotations for Human-Rat-Zebrafish genes considered orthologs of Mouse in the Alliance stringent orthology set B3galnt1
Gene Ontology Evidence Code Abbreviations:
EXP Inferred from experiment
IDA Inferred from direct assay
IEP Inferred from expression pattern
IGI Inferred from genetic interaction
IMP Inferred from mutant phenotype
IPI Inferred from physical interaction
HTP Inferred from High Throughput Experiment
HDA Inferred from High Throughput Direct Assay
HMP Inferred from High Throughput Mutant Phenotype
HGI Inferred from High Throughput Genetic Interaction
HEP Inferred from High Throughput Expression Pattern